For monitoring your cash flow projection and alerting when cash shortages or too high balances are coming up.
The out of the box template plots (GL Cash Today) + (Open AR) - (Open AP) - (GL Projected Payroll) + (user-input adjustments, ex.: a loan payment).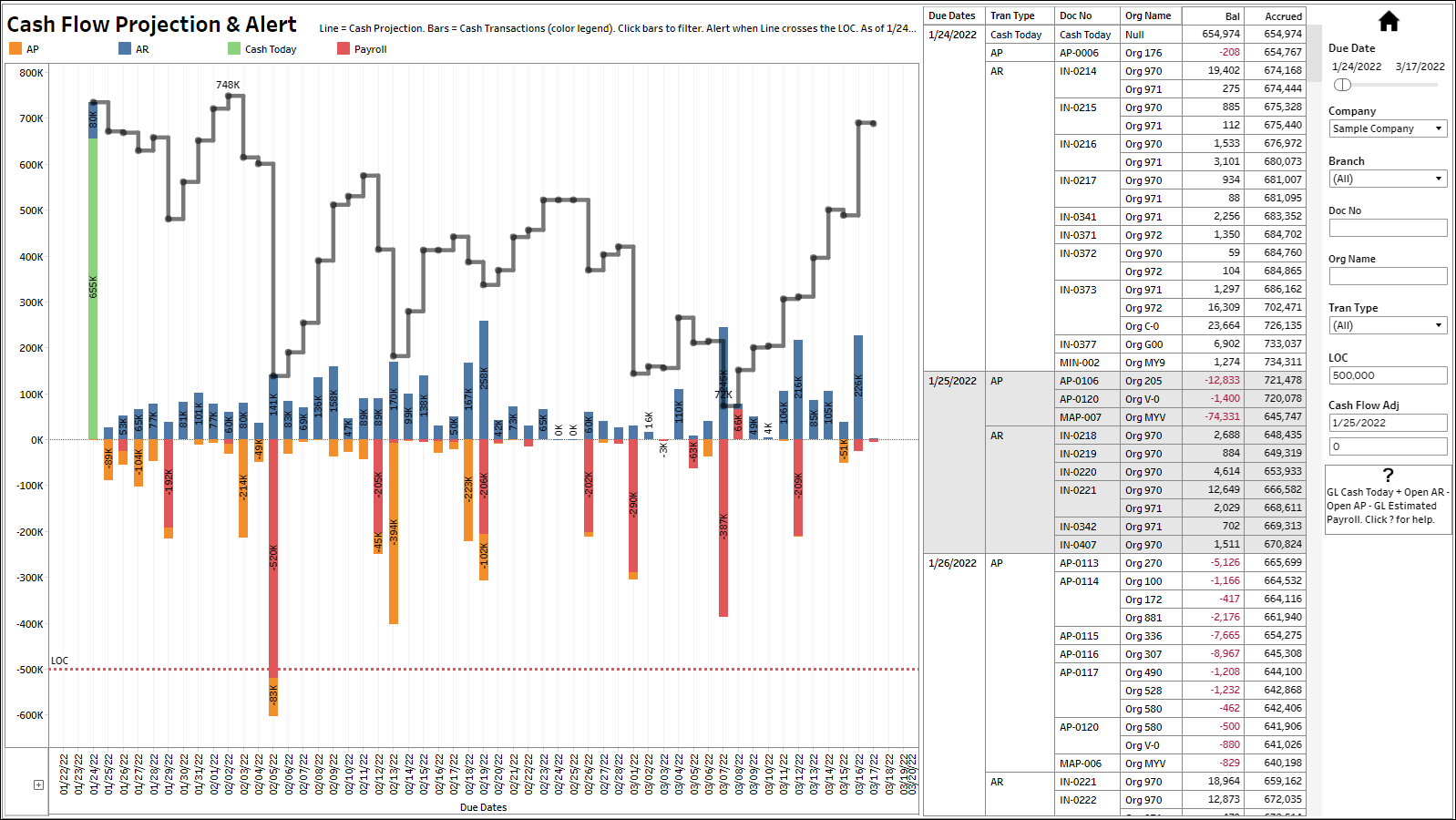 Popular Customizations:
This template requires adjustments to capture the correct GL accounts for Cash Today and Payroll Projection.

It's easy to add other cash flow transactions (such as recurring revenues and expenses) from your ERP and other data silos such as Excel.
Chart
Bars: In/outbound cash (such as inbound for open Receivables or AP Credit Memos).

Line: Based on the Due Date filter, it accrues daily net balances. The line turns reds when crossing below the Line of Credit (LOC) limit indicating a potential cash flow issue.
Slicing and Dicing
Clicking a single or multiple bars to filter the detail panel.

Use the Filters and Parameters on the right panel to fine tune your analysis.

Cash Flow Adj: will add one user-entry record to your projection. Ex.: big loan payment coming due but not in AR yet.

Undo/Redo (top left).

Revert (top left) will bring the default back to its pre-saved settings.

Full Screen (top right).

Download (top right).

Regular keyboard and mouse standards apply (such as press and hold the Ctrl button to select multiple data points).
Alerts
Automatically emailing the dashboard only if the trend line crosses a threshold - for instance, when the trend line goes below the LOC limit.

Click the Y axis on the left, then Alert on the top right, fill out the form.
Emailing on a Schedule
Click Subscribe on the top right and fill out the form.
Commenting
Click Comments on the top right. Tagging a person with @ will email them the comments.
Embedding it in other Applications
Search for "embed" on the top right box to find articles aboiut embedding this dashboard into other applications.