DataSelf Value Proposition Diagram
Business Value
The Problem: Organizations struggle with limited visibility to their business data that is stored in multiple, disparate systems (such as ERP, CRM, Payroll, Excel sheets, and POS) that provide limited reporting. Data analysis is complex and time-consuming, too many decisions are made without a clear picture of the facts.
The Solution: DataSelf Analytics combines power, ease-of-use, and time-to-value to empower management with 360-degree visibility across all of their business data. DataSelf provides a platform that automates mechanical reporting processes, from data extraction and optimization to report creation and secure, personalized, report distribution. The end result is quicker, more informed decision-making, anytime and anywhere.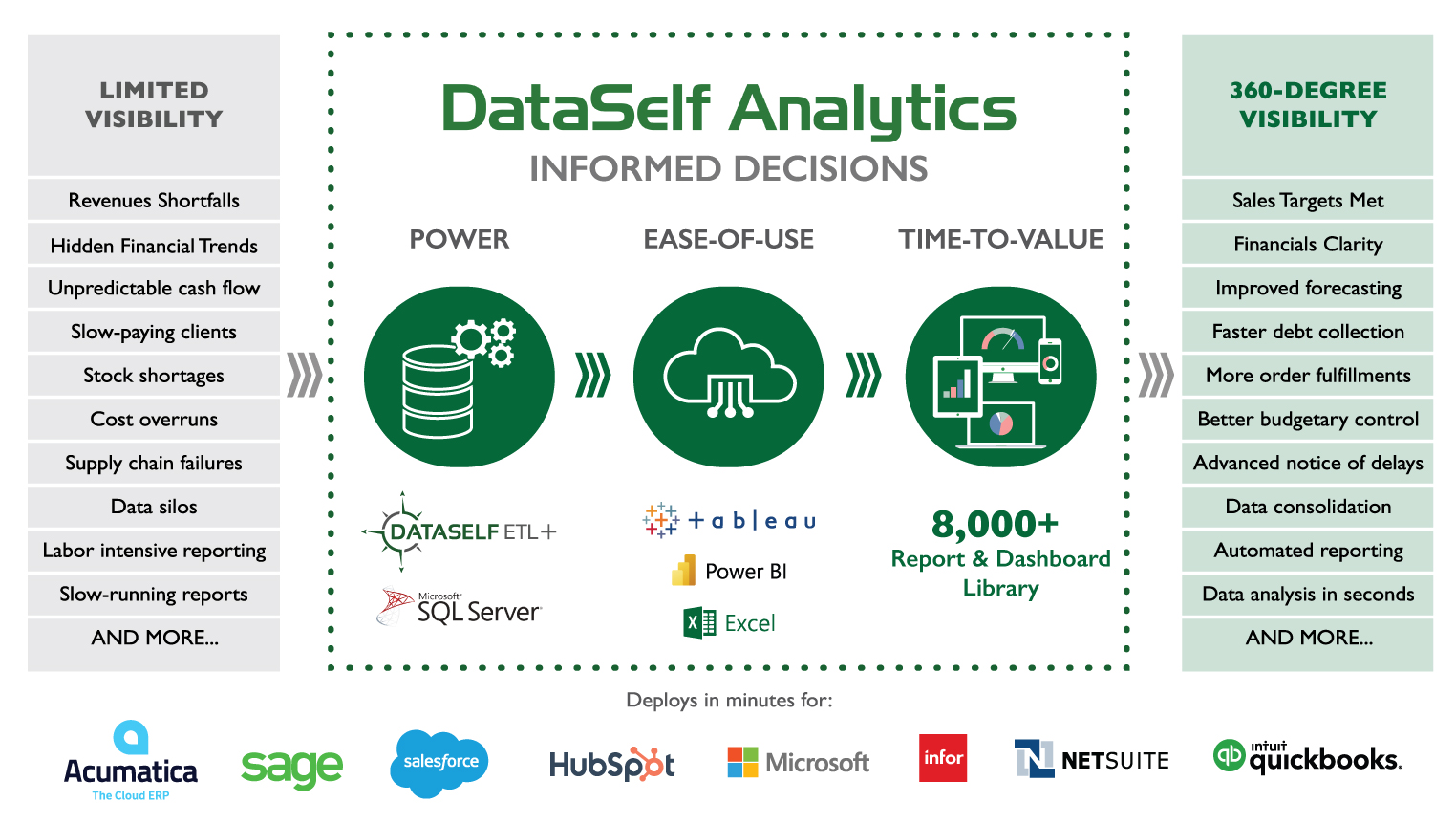 Technology Value
The problems:
Applications such as ERP, CRM, Payroll systems, and POS that embed their own reporting and dashboarding tools are inadequate to the needs of today's real-time business environment. This embedded reporting is complex (the sole domain of IT), it is time-consuming, and cannot easily consolidate data from other data sources (such as Excel spreadsheets, and showing together customer touchpoints like ERP sales, CRM open opportunities, email campaigns, and social media interactions).

Mid-market BI tools typically utilize proprietary technologies ("black box technology") that are technically limited, have uncertain futures, and tech support is not as widely and deeply available as from upper market vendors.

The top-rated BI technologies of Tableau and Power BI are easy to use, widely supported, and affordable; however, the process of connecting them to corporate data is neither quick nor easy. Organizations are still tasked with extracting, securing, and optimizing their data – as well as configuring enterprise-wide security and report distribution.

Mid-market reporting tools come with a limited library of reports to choose from. Needed reports have to be created from scratch – a time-consuming task.
The solution: DataSelf
DataSelf brings power in the form of ETL+ and MS SQL Server to quickly and easily extract, optimize, and load data from your business apps into the DataSelf reporting database (also known as a data warehouse, data mart or data hub). This includes replicating raw business data in the reporting database, and then auto-processing additional manipulations and indexing as needed. This process runs automatically (or on-demand), doing full or delta data extractions and processing as needed.

DataSelf leverages Tableau, Power BI and/or MS Excel to provide unequaled ease-of-use by automating the processes of connecting them with your underlying data sets and giving the BI engines secure access to highly-optimized application data. The report run-time (typically less than 10 seconds) & distribution process is likewise automated.

DataSelf's award-winning library of over 8,000 (industry & role-specific) reports and dashboards provides the industry's best time-to-value proposition, enabling decision-makers with the right information at the right time.

The effort to deploy and maintain DataSelf is dramatically reduced compared to competing solutions. Many new report requests are fulfilled by the DataSelf report library as-is or with simple adjustments, business users can use built-in Natural Language Query (NLQ) to address many ad-hoc questions, and DataSelf's power and ease-of-use give IT and business analysts the platform to efficiently and securely tackle simple to complex data consolidation and reporting needs.
360+Degree Visibility
The following are examples of reporting and data analysis areas that organizations improve by leveraging DataSelf Analytics anytime and anywhere via any device.
Sales Targets Met by closely and timely monitoring sales initiatives (current, historical, and projections) and comparing them to targets/forecasts.
Improved forecasting such as sales forecast, inventory planning, cash flow projection, budgeting, financials (P&L and B/S), supply chain, manufacturing, and project deliverables.
Faster debt collection by monitoring receivables trends and high-risk clients.
More order fulfillment by monitoring sales demand and forecast, inventory on hand, reasons why some orders are not fulfilled, and supply chain challenges.
Better budgetary control by consolidating sales, cost-of-goods sold, and gross profit – showing actual-versus-budget (& variance) figures for any selected time range.
Advanced notice of delays with drill-down into specific items and/or vendors, enabling you to anticipate and plan for interruptions in your supply chain.
Data consolidation using DataSelf's next-generation ETL+ technology to securely extract, store and optimize your organization's data (single or multiple data silos), and then leverage MS SQL, Tableau, Power BI, and/or MS Excel to give the right data to the right person at the right time.
Automated Reporting to ensure that your staff, clients, and partners automatically receive the precise reports and dashboards they need when they need it. Mechanical and repetitive reporting tasks become automated.
Data Analysis in seconds using highly-optimized data from your applications, enabling most reports to run in under 10 seconds.
And more… including Natural Language Query (NLQ), a Google-like interface that instantly turns plain English report requests into the reports & dashboards you need.