✅ v2023.10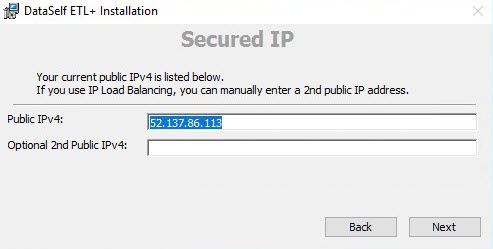 The IP address is used to establish a secured connection to your data warehouse on DataSelf's cloud.
The installer obtains the Public IPv4 or Public IPv6 address from your computer.
Most clients should leave the entry boxes as is and click Next.
Public IPv4: Accept or change the static/fixed IPv4 or IPv6 address that will be used to establish the secured connection to DataSelf's cloud.
Optional 2nd Public IPv4: 2nd IP address if the server is configured for IP load balancing.
Next button.
Notes:
This IP address (along with other security information) is required to access the DataSelf cloud for ETL + maintenance and data upload.

The Product Registration page will show up again if your public IP changes. Please fill it out again to proceed with IP whitelisting. See Install DataSelf ETL+ for details.

For added security this step 'whitelists' the IP address on DataSelf's cloud.