ETL+ Public IP Whitelisting
✅ v2022.08
For security, DataSelf ETL+ whitelists your IPv4 or IPv6 public address (not the internal IP address).
ETL+ for Maintenance: Usually installed on personal computers. If ETL+ detects that you have a new or changed public IP (ex.: you took your notebook to a hotel), it'll initiate a public IP whitelisting. See below.
ETL+ for Production:
Cloud source systems: If DataSelf Corp. is hosting your ETL+ production and refreshing your data cloud-to-cloud, then you don't need to worry about IP whitelisting.

Running ETL+ data extraction on-premises: Your ETL+ installation will require whitelisted public IP addresses. See below for options.
IP Whitelisting
Upon manually running ETL+, it'll initiate a public IP whitelisting if not done yet:
ETL+ license validation: Look for your ETL+ registration email for Email, Entity ID, Token; press Next.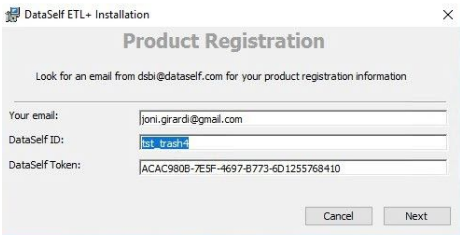 ETL+ recognizes your current public IP address (enter a 2nd one if available), click Next and you're all set.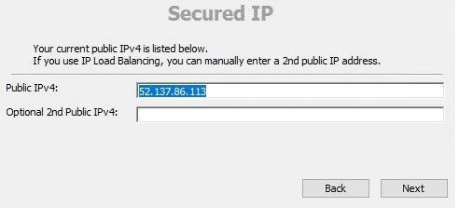 No Public Fixed IP
Option 1 (Recommended): Setting up a public IP address for your business or computer running ETL+.

Option 2: Setting up a VPN between the computer running ETL+ and DataSelf cloud data warehouse.

Option 3: In most cases, public dynamic IPs rarely change (usually in power outages and/or IP modem resetting). Move forward with your dynamic IP address, and if/when it changes, run ETL+ manually to whitelist the new IP.
Related Pages