DataSelf's fully hosted (cloud based) solution for Automatic Distribution of Tableau views and dashboards.
Context Diagrams
The latest releases of Cloud AD use DataSelf ETL+ as the interface between users and the cloud server.
DSA Cloud AD with ETL+
See diagram below. ETL+ replaces Devart for Excel.
DSA Cloud AD with Devart for Excel Context Diagram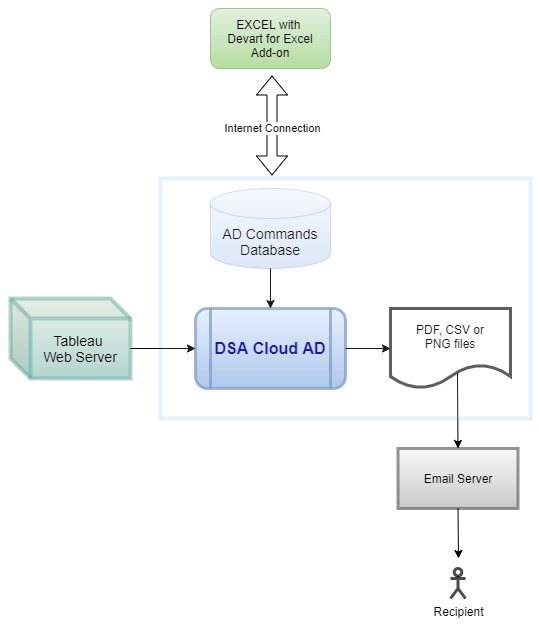 The Tableau Web Server can be hosted anywhere. DSA Cloud AD can work remotely with Tableau Web Server over the internet.
Batches Run by Schedule & Run on Demand
A batch is a set of Report & Distribution Commands saved in a table. Batches are usually run by a scheduler. Batches can also be run on demand from special pages available on Tableau Web Server. DataSelf will create a run-on-demand page for each batch.
The Report & Distribution commands tell DSA Cloud AD:
Which Tableau view, report, dashboard, or workbook to run.
The filter values to run it with.
The format of the output (e.g. optional PDF options)
What email addresses to send the output to.
Email subject line & optional brief message in email body.
Obtaining Technical Support
Please contact support@dataself.com for assistance. Copy cwilson@dataself.com.