ETL+ Source Driver for Text Files (.CSV)
Creates and manages Source Objects that connect to CSV files. The CSV files can be on a local folder or on a web page.

Add Source: New Text File (.csv) connection.
Properties: Maintain Text File connection.
Refresh: Update source Text File database metadata.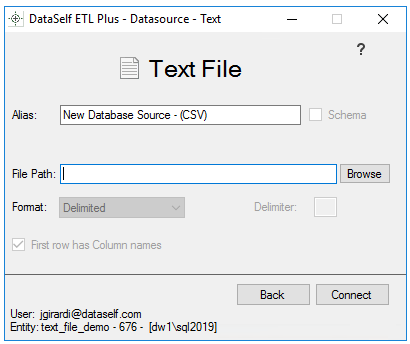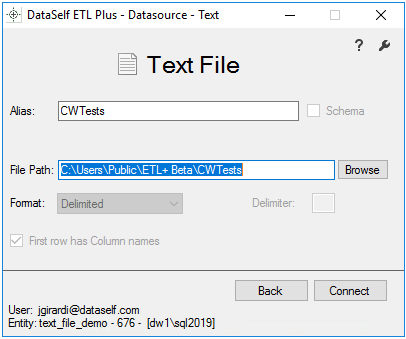 Alias. The name for the source object shown on the Source Objects panel. Unless customized the name will be automatically generated based on the last folder (directory) in File Path.

Schema. Inactive.

File Path. Enter a local file path containing the .csv or .txt files, a internet URL, or IP address.

Browse. Browser function to local the File Path.

Delimiter. Always dimmed.

First Row has Column names. Checkbox is always dimmed but always selected.
Back. Leave the page without saving or attempting to connect.

Connect. Connect to the Text File source. Same function as Refresh.
| | |
| --- | --- |
| | Help |
| | Change DataSource. Only shown when opened by Properties. |
File Path can have a Windows path, URL to a web page or IP address.
.txt files are treated as .csv files.
---
Examples
The .csv files recognized by the driver are based on the File Path. In this example the File Path C:\Users\Public\ETL+ Beta\CWTests contains the files csv1.csv and csv2.csv.

Connecting to the csv1.csv file
csv1.csv file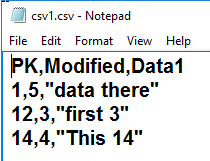 Preview page

csv1 target table